Back to management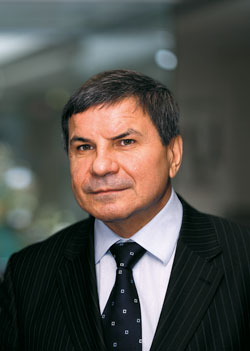 Ravil Shagimardanovich Shavaleev
General Manager
2 July 1957
During his player career Ravil played for SK im. Uritskogo (Kazan) on the defenseman position for 10 seasons (1978-1988) and scored 60 goals in total. Master of Sports of the USSR. He won Silver medal prize on the Winter Universiade-1983.
After completing his playing career, he started to work as a director of Kazan hockey junior school. From 1994 to 2004 - Director of the Neftekhimik (Nizhnekamsk) hockey club.
In the our club since 2004. Honoured for the physical culture and sports issues of the Republic of Tatarstan.
Under Shavaleev's watch the Ak Bars team has won the Russian Championship three times (2006, 2009, 2010), the KHL Championship two times (2009, 2010), two Gagarin Cups (2009, 2010), Silver medals of the Russian Championship (2007), IIHF European Champions Cup (2007) and IIHF Continental Cup (2008).