Back to coaches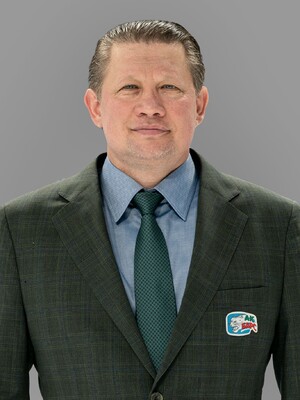 Айрат Хайдерович Кадейкин
Player development coach
7 July 1970
Airat was born on July 7, 1970, in Penza. A trainee of Penza hockey. He played as a forward in the following teams: Dizelist (Penza), SKA (Novosibirsk), Itil – Ak Bars (Kazan), Neftekhimik (Nizhnekamsk), Metallurg (Novokuznetsk), Neftyanik (Almetyevsk), Neftyanik (Leninogorsk).
Champion of Russia (1998). as a member of Ak Bars Kazan. He spent six seasons for the Kazan club (1992-1998), played 274 games (52 goals + 43 assists).
He has been working as a coach since 2005. He worked as an assistant (2004-2006; 2007-2012; 2013-2015) and head coach (2006/07) in Neftekhimik (Nizhnekamsk), headed the MHL team Reactor (Nizhnekamsk) in the 2012-13 season.
Since 2015, he has been working in the Ak Bars system as an assistant (2015/16) and head coach of the VHL team Bars (2016-2019), as a coach in the MHL team Irbis (2019/20). Since the 2020/21 season – Ak Bars player development coach.
The use of the photos is allowed only with a hyperlink to the official website ХК «Ак Барс»