Back to coaches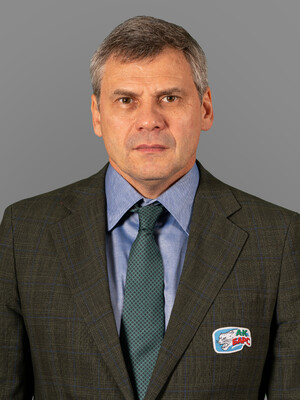 Dmitry Vyacheslavovich Kvartalnov
Head coach
25 March 1966
Dmitry Kvartalnov was born on 25 March 1966 in Voskresensk. Being a trainee of Khimik (Voskresensk), he is a Master of Sports of International Class.
A forward during his career, he played for Khimik (Voskresensk), SKA (Sverdlovsk), SKA MVO (Kalinin), San Diego Gulls (San Diego, USA), Boston Bruins (Boston, USA), Providence Bruins (Providence, USA), Ambri-Piotta (Ambri, Switzerland), Klagenfurt (Klagenfurt, Austria), Adler (Mannheim, Germany), Jokerit (Helsinki, Finland), Ak Bars (Kazan), Severstal (Cherepovets), Krylya Sovetov (Moscow).
Kvartalnov spent four seasons in Ak Bars (2000-2004), having played in 198 matches of the Russian championships and registered 64 goals and 86 assists.
He became the bronze medalist of the USSR Championship (1989 and 1990 accordingly), silver and bronze medalist of Russian championships (2002 and 2004 accordingly), silver medalist of Finland (2000), bronze medalist of Swiss championship (1996), silver medalist of Alps Hockey League (1997), World Champion (1989), European Champion (1989, 1991), and the bronze medalist of World Championship (1991) within USSR national team.
Kvartalnov has been coaching since 2009. He worked as a head coach for Severstal (Cherepovets), Sibir (Novosibirsk), CSKA (Moscow), Lokomotiv (Yaroslavl).
Coaching achievements: Champion of Russia (2015), silver medalist of Russian championship (2016, 2020), winner of Continental Cup (2015, 2016, 2017), winner of Opening Cup (2016), Best Coach (2016).