Ak Bars – SKA – 3: 2 OТ
On September 6, Ak Bars defeated SKA in the home game of the KHL regular season with a score of 3:2 in overtime.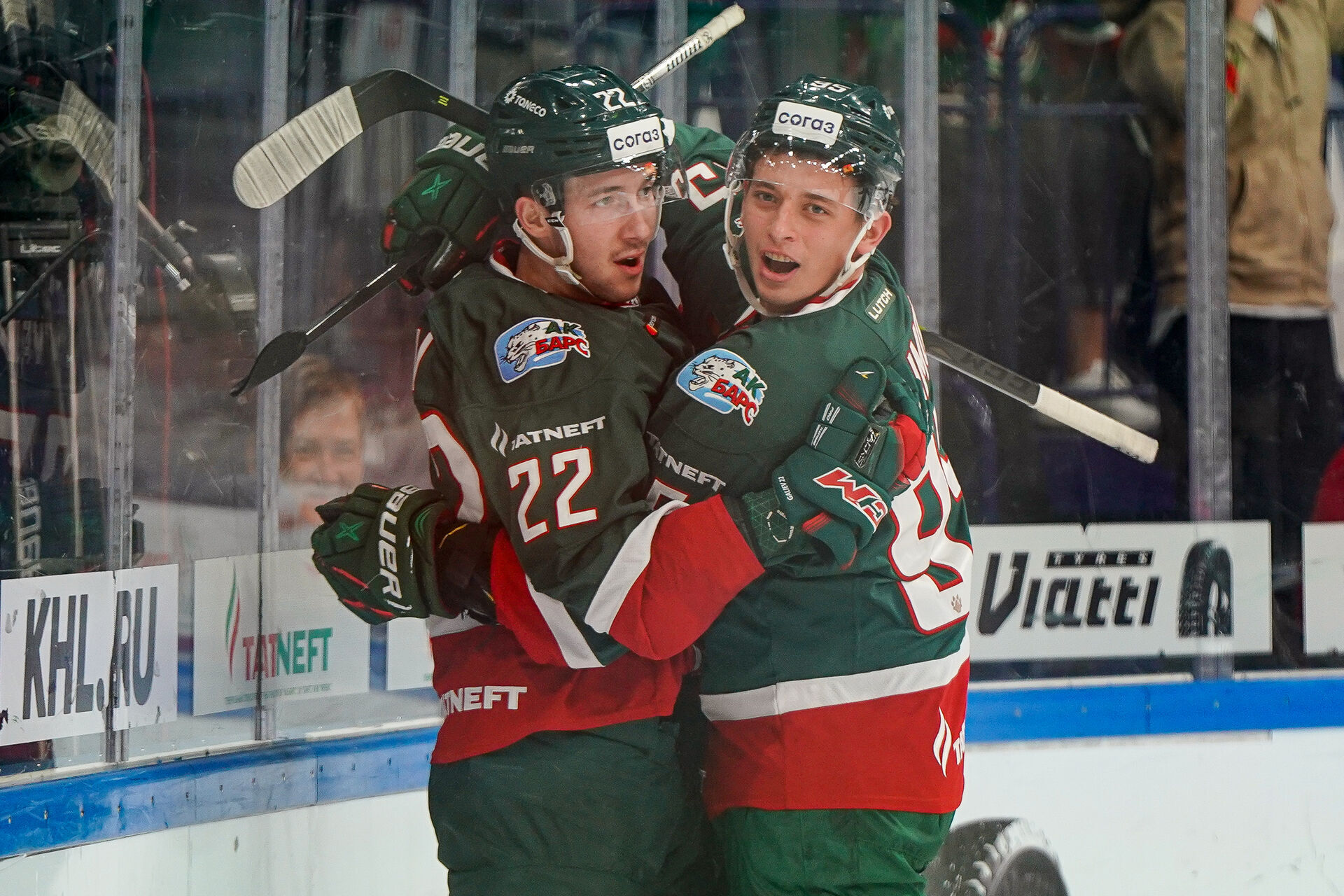 The teams failed to score in the first period. SKA forward Kirill Marchenko ran one-on-one with Timur Bilyalov, but the Kazan goalie caught the puck in a trap.
The hosts opened the score at the beginning of the second period. Artyom Galimov entered the attacking zone after a pass from Dmitry Voronkov and made a pass to Stanislav Galiyev, who sent the puck into the net in one touch.
The appearance of 19-year-old forward Ilya Safonov during the second period revived the attack of Kazan team. In one of the attacks, Safonov brought the Ak Bars captain Danis Zaripov to the throw, but the visitors' goalie Alexander Samonov deflected the puck.
It was Safonov who started the second goal attack of Kazan team. He made a pass to Zaripov, who crossed the red line and threw the puck into the attacking zone. Artyom Lukoyanov was the first to reach it and made a pass to Patrice Cormier, who immediately threw it into the top corner.
After 45 seconds SKA won back one goal. Andrei Kuzmenko closed out a quick SKA attack with one-timer shot. And 28 seconds before the end of regular time, Anton Burdasov equalized the score.
It was Nigel Dawes who brought Ak Bars to the victory in overtime.
Ak Bars will play their next match on September 9 on the road match against Dinamo Minsk, starting at 19: 30. Kazan team will play their next home match on September 17 against Salavat Yulaev.
Ak Bars – SKA – 3:2 OТ (0:0, 1:0, 1:2, 1:0)
Kazan, Taneft arena. 3960 viewers
1:0 Galiyev (Voronkov, Galimov А., 26:48)
2:0 Cormier (Lukoyanov, Zaripov, 50:26)
2:1 Kuzmenko (Bengtsson, Galimov E., 51:11)
2:2 Burdasov (Kemppainen, Vey, 59:32, 6х4)
3:2 Dawes (Da Costa, 60:57)
Goaltenders: Bilyalov – Samonov
Referee: Martin Frano, Jan Hribik, Gleb Lazarev, Alexander Sysuyev
Ak Bars team:
Goaltenders: Timur Bilyalov (Adam Reideborn);
Albert Yarullin – Mikael Wikstrand, Justin Azevedo (A) – Stephane Da Costa – Stanislav Galiyev;
Nikita Lyamkin – Dmitry Yudin, Nigel Dawes – Artyom Galimov – Dmitry Voronkov;
Kristian Khenkel – Andrei Pedan, Artyom Lukoyanov (A) – Patrice Cormier – Mikhail Fisenko;
Roman Rukavishnikov, Nikita Dynyak – Alexander Khovanov – Danis Zaripov (C); Ilya Safonov.
SKA team:
Goaltenders: Alexander Samonov (Magnus Hellberg);
Anton Belov – Lukas Bengtsson, Vladimir Tkachyov-Linden Vey – Emil Galimov;
Vasily Tokranov – Igor Ozhiganov, Andrei Kuzmenko-Miro Aaltonen – Anton Burdasov (K);
Dinar Khafizullin– Viktor Antipin, Evgeny Timkin – Joonas Kemppainen – Artyom Shvets-Rogovoi;
Yaroslav Dyblenko, Kirill Marchenko-Ivan Morozov-Vasily Podkolzin; Bogdan Yakimov.