Lokomotiv - Ak Bars - 4:3
On October 1, Ak Bars lost to Lokomotiv in the KHL Regular Championship.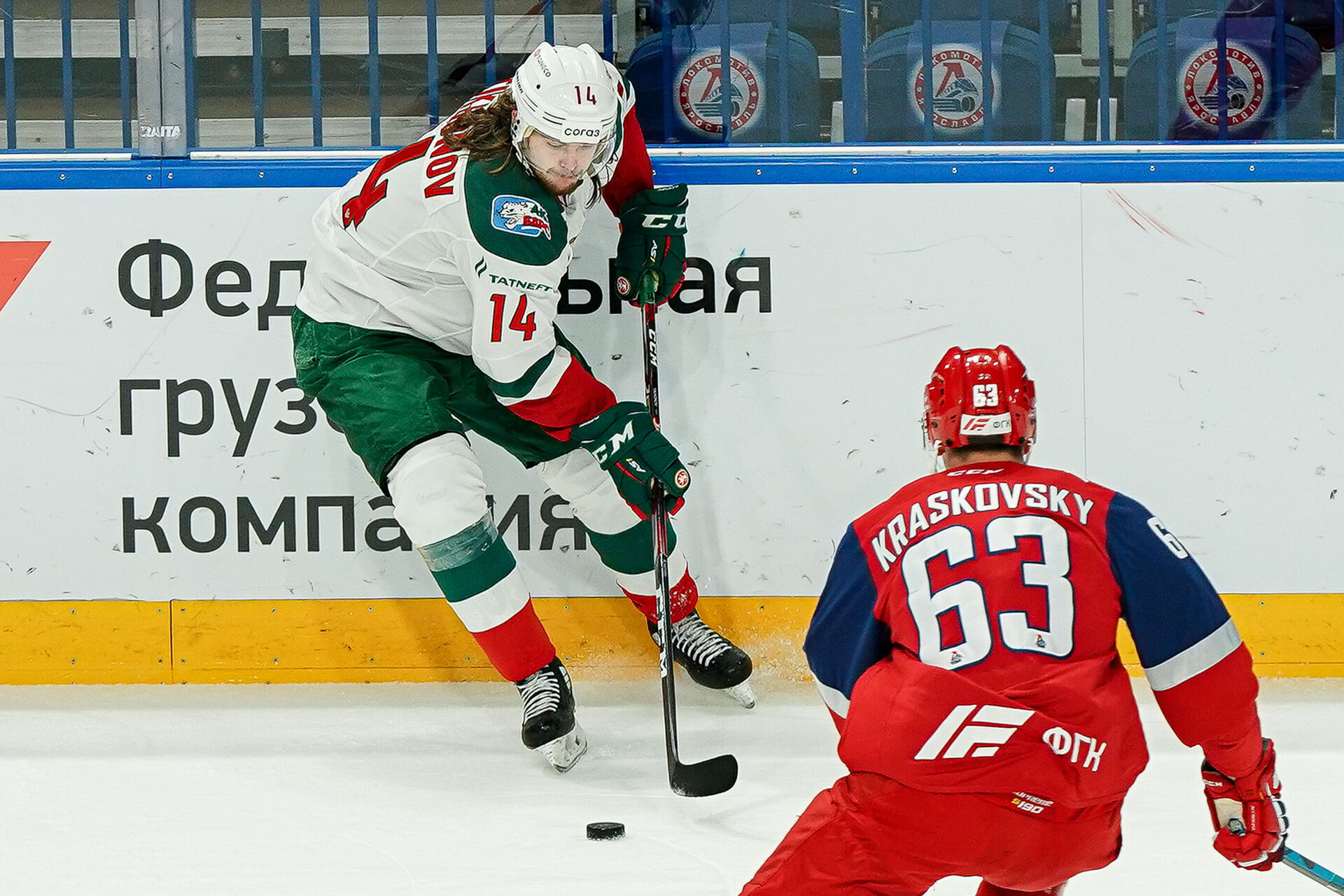 Vladimir Tkachev and Maxim Osipov opened the scoring in the middle of first period.
At the end of the first period Stanislav Galiev reduce the backlog, but already at the beginning of the second period Lokomotiv made two goals in 15 seconds. After that Ak Bars change goalkeeper to Adam Reidenborn.
In the third period Kazan did not have a score to settle and Ak Bars was defeated again on this match.
The next match Ak Bars will play on October 5 against Salavat Yulaev. Start at 7:00 pm.
Lokomotiv - Ak Bars - 4:3 (2:1, 2:2, 0:0)
1:0 Tkachev (Berezkin, Rafikov, 12:45)
2:0 Osipov (Korshkov, 14:39)
2:1 Galiev (Yudin, Lyamkin, 18:15)
3:1 Kayumov (Paajarvi, Korshkov, 25:06, 5х4)
4:1 Ilyenko (Ivanov, Averin, 25:21)
4:2 Galiev (Galimov, 28:09)
4:3 Da Costa (Yudin, Dynyak, 29:36)
Goaltenders: Konovalov - Bilyalov.
Judges: Victor Birin, Alexei Vasiliev, Alexander Sadovnikov, Evgeny Streltsov.
Lokomotiv team:
Goaltenders: Ilya Konovalov (Daniil Isaev);
Nikita Cherepanov - Alexey Marchenko, Magnus Paajarvi - Vladimir Tkachev - Yegor Korshkov;
Rushan Rafikov - Maxim Osipov, Pavel Kudryavtsev - Denis Alekseev - Pavel Kraskovsky;
Roman Savchenko - Anton Malyshev, Artur Kayumov - Georgy Ivanov - Yegor Averin;
Daniil Misyul, Maxim Berezkin - Daniil Tesanov - Mikhail Belyaev, Artyom Ilyenko.
Ak Bars team:
Goaltenders: Timur Bilyalov (Adam Reidenborn);
Dmitry Yudin - Nikita Lyamkin, Nigel Dawes - Stefan Da Costa - Victor Tikhonov;
Andrei Pedan - Mikael Vikstrand, Stanislav Galiev - Artyom Galimov - Justin Azevedo;
Kamil Fazylzyanov - Alexander Lyubchich, Artyom Lukoyanov - Ilya Safonov - Mikhail Fisenko;
Nikita Dynyak - Patrice Cormier - Kirill Petrov, Alexander Burmistrov, Mikhail Glukhov.