Ak Bars − Salavat Yulaev – 4:1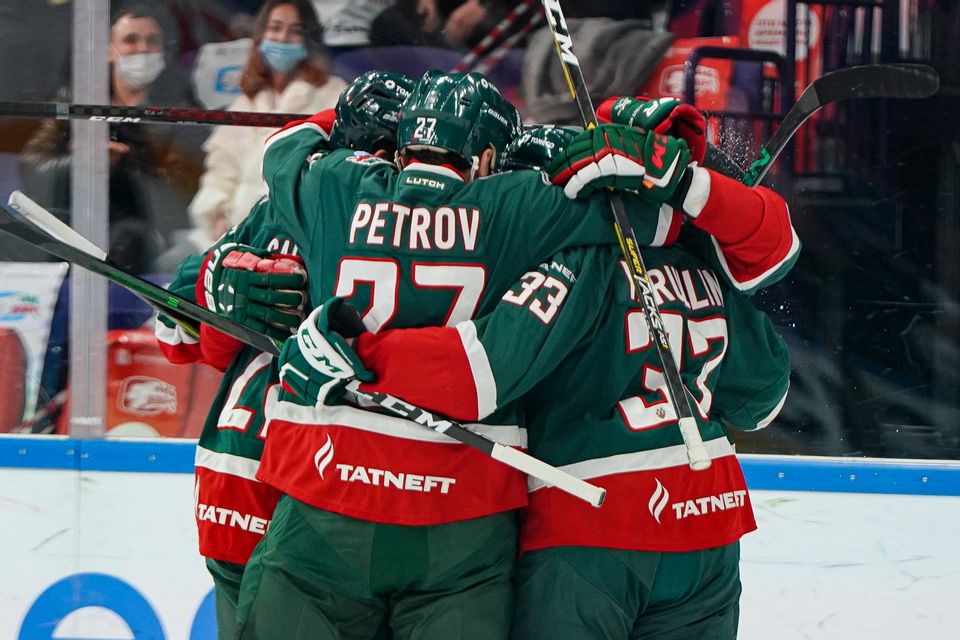 On March 17, Ak Bars beat Salavat Yulaev in the first game of the Eastern Conference semifinals with the scoring of 4:1. At the start the teams played a little more than six minutes without pauses. In the tenth minute, Panin received a small penalty and Ak Bars realized their powerplay: Albert Yarullin hit the puck from the blue line, where Patrice Cormier scored the goal, 1:0! The first half of the second twenty minutes was eventful. Once again, Albert Yarullin scored from the blue line and Mikhail Glukhov doubled the advantage of Ak Bars. After only 26 seconds, Salavat Yulaev was able to score a goal. A little later, Dmitry Voronkov hit an empty corner of the net 3:1. In the middle of the period, Nigel Dawes scored the fourth goal. In the third period, the teams continued to play attacking hockey. Ak Bars started the Eastern Conference semifinals with a win.
Ak Bars – Salavat Yulaev – 4:1 (1:0, 3:1, 0:0)
1:0 Cormier (Yarullin, Pesonen, 10:26, 5х4)
2:0 Glukhov (Yarullin, Lukoyanov, 23:09)
2:1 Kartayev (Solodukhin, Lisovets, 23:35)
3:1 Voronkov (Pedan, 26:05, 4x5)
4:1 Dawes (Da Costa, Pedan, 29:11)
Goaltenders: Bilyalov – Metsola (Tarasov, 29:11).
Ak Bars:
Goaltenders: Timur Bilyalov (Adam Reideborn);
Mikael Wikstrand – Albert Yarullin (a), Nigel Dawes – Stephane Da Costa – Viktor Tikhonov;
Andrei Pedan – Kristian Khenkel, Artyom Lukoyanov (c) – Alexander Burmistrov – Mikhail Glukhov (a);
Daniil Zhuravlyov – Dmitry Yudin, Harri Pesonen – Patrice Cormier – Kirill Petrov;
Nikita Lyamkin, Stanislav Galiyev – Artyom Galimov – Dmitry Voronkov; Ilya Safonov