Ak Bars − Avangard − 2:3 ОТ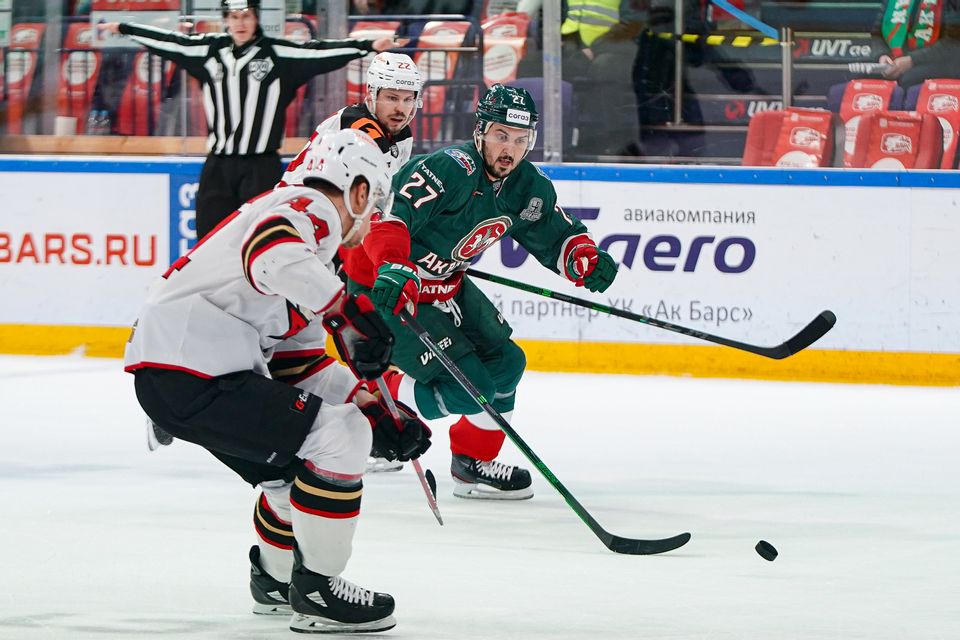 On April 11, Ak Bars lost to Avangard in the fifth game of the Eastern Conference finals with a scoring of 2:3.
The teams started the match deftly, but already in the fourth minute Ak Bars got the right to play in the powerplay after. Gradually, the game advantage passed to the guests, as a result, they opened the score four minutes before the end of the period.
In the second twenty-minute Kazan entered much more actively. Next, Ak bars got a second opportunity to play in the powerplay, but even here they failed to get into the goal. Kirill Petrov had a good 1 in1 performance, but his shot wasn't the strongest. At the beginning of the third period, teams exchanged scoring chances.
The pressure of Ak Bars turned into a goal in the middle of the third period: Dmitry Yudin gave a great pass to Dmitry Voronkov and he scored a goal in the far corner, 1:1. Ilya Kovalchuk got a two-minute penalty and Dmitry Voronkov got a double! In the last minute and a half, Avangard replaced the goaltender with a sixth fielder.
With 58 seconds before the end of regular time, Ilya Kovalchuk settled the score, 2:2. In overtime teams had two minutes to complete the match – Reid Boucher brought victory to his team. The score in the series is 2:3 in favor of Avangard.
Ak Bars – Avangard – 2:3 OT (0:1, 0:0, 2:1, 0:1)
0:1 Chistyakov (Kovalchuk, 15:25)
1:1 Voronkov (Yudin, 50:33)
2:1 Voronkov (Galiyev, Yarullin, 53:57, 5х4)
2:2 Kovalchuk (Zernov, 59:02)
2:3 Boucher (Chinakhov, Knight, 61:53)
Goaltender: Bilyalov – Hrubec.
Ak Bars:
Goaltenders: Timur Bilyalov (Adam Reideborn);
Trevor Murphy – Albert Yarullin (a), Nigel Dawes – Stephane Da Costa – Viktor Tikhonov;
Andrei Pedan – Kristian Khenkel, Dmitry Voronkov – Artyom Galimov – Danis Zaripov (c);
Roman Rukavishnikov – Dmitry Yudin, Stanislav Galiyev – Patrice Cormier – Kirill Petrov;
Nikita Lyamkin, Artyom Lukoyanov (a) – Alexander Burmistrov – Mikhail Glukhov; Ilya Safonov.