Ak Bars − Avangard − 3:4 ОТ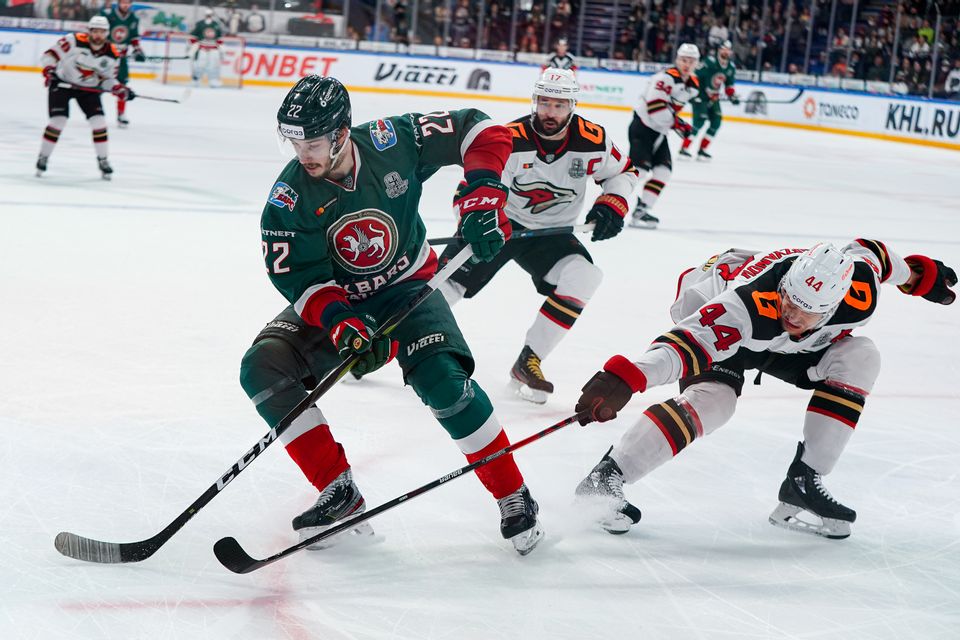 On April 15, Ak Bars lost to Avangard in the seventh game of the Eastern Conference finals in overtime with the scoring of 3:4.
The match started with dynamic attacks. In the 11th minute, Avangard were able to take the lead – Kirill Semyonov pushed the puck into an open corner, 0:1. Quite quickly, Ak Bars settled the score – Artem Galimov gave a pass to Dmitry Voronkov and he made the goal, 1:1. At the end of the period, Omsk took the lead again – Oliwer Kaski threw a shot and the puck went between goaltender's legs, 1:2.
In the 35th minute of the second period, Albert Yarullin threw the puck into the top corner, 2:2. Almost immediately Ak bars made a third goal: Ilya Safonov made a pass to Voronkov and Dmitry passed to Artyom Galimov – the forward made the goal, 3:2.
At the beginning of the third period Avangard was active again. In the middle of the period Avangard settled the score. In regular time teams didn't showed the strongest and match went into overtime.
The start of the overtime began with the pressure of Kazan. However, in the 64th minute, Oliver scored a goal and Avangard reached the final of the Gagarin Cup.
Ak Bars – Avangard – 3:4 OT (1:2, 2:0, 0:1, 0:1)
0:1 Semyonov (Kostin, 10:12)
1:1 Voronkov (Galimov, Safonov, 12:12)
1:2 Kaski (Semyonov, Tolchinsky, 19:09)
2:2 Yarullin (Safonov, 34:08)
3:2 Galimov (Voronkov, Safonov, 36:38)
3:3 Pokka (Boucher, Kostin, 49:22)
3:4 Kaski (Khokhlachyov, Tolchinsky, 63:07)
Goaltenders: Bilyalov – Hrubec.
Ak Bars:
Goaltenders: Timur Bilyalov (Adam Reideborn);
Roman Rukavishnikov – Albert Yarullin (a), Mikhail Fisenko – Ilya Safonov – Mikhail Glukhov (a);
Andrei Pedan – Kristian Khenkel, Dmitry Voronkov – Artyom Galimov – Stanislav Galiev;
Nikita Lyamkin – Dmitry Yudin, Nikita Dynyak – Patrice Cormier – Kirill Petrov;
Daniil Zhuravlyov, Nigel Dawes – Alexander Burmistrov – Viktor Tikhonov; Danis Zaripov (c).