Ak Bars - Admiral - 2:1 SO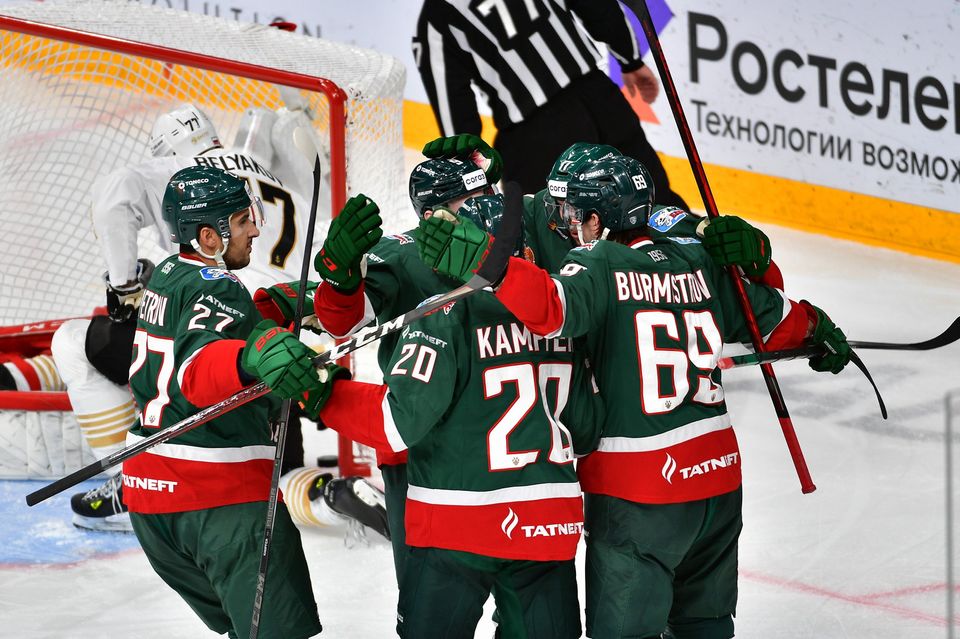 On September 24, Ak Bars won Admiral in the shootouts with a score of 2:1.
Admiral hit the goal in the second minute of the first period. Mikhail Kotlyarevsky made a shot, the puck flew to Timur Bilyalov and rebounded into the goal. Ak Bars coach requested a video review and, as a result, was canceled because of offside position from Admiral player. After this episode Ak Bars became more active. And ten seconds before the end of the period, Bilyalov made a series of saves, deflecting two shots from Admiral.
On the 24th minute Ak Bars got the first powerplay in the match. Burmistrov made a pass to Kagarlitsky, Dmitry threw the puck on a slot to Peru Lindholm, and forward opened the scoring. During the second half of the period, Kazan often made mistakes, which led to penalties and but in the 38th minute Dmitry Sayustov equalized the score.
In the third twenty-minute Dmitry Kvartalnov's team had an overwhelming advantage over Admiral. And yet the match went into overtime, where Ak Bars had to play in shorthanded
for almost two minutes. As a result, Ak Bars players made two shots out of four in the shootout of the game: Alexander Burmistrov and Nikolai Kovalenko scored.
Ak Bars - Admiral - 2:1 SO (0:0, 1:1, 0:0, 0:0, 1:0)
1:0 Lindholm (Kagarlitsky, Burmistrov, 23:31, 5х4)
1:1 Sayustov (Sulak, Ushenin, 37:07, 4х3)
2:1 Kovalenko (65:00, SO)
Goaltenders: Bilyalov - Serebryakov (Nalimov, 65:00).
Ak Bars:
Goaltenders: Timur Bilyalov (Igor Bobkov);
Steven Kampfer - Kristian Khenkel, Artyom Lukoyanov (a) - Alexander Burmistrov - Arthur Brovkin;
Dmitry Yudin - Daniil Zhuravlyov, Dmitry Kagarlitsky - Artyom Galimov - Nikolai Kovalenko;
Kirill Adamchuk - Roman Rukavishnikov, Dmitry Voronkov - Ilya Safonov - Danis Zaripov (c);
Mikhail Glukhov (a), Daniil Tarasov - Par Lindholm - Kirill Petrov; Alexander Kvartalnov.