Ak Bars - Dynamo Mn - 3:4 OT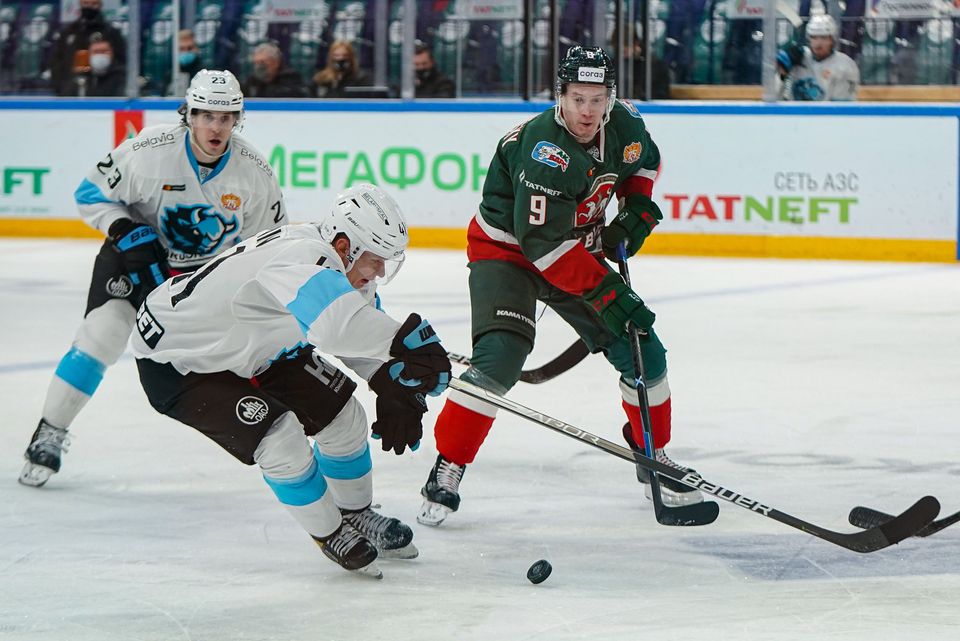 On October 5, AK Bars lost to Dynamo Minsk in overtime with a score of 3:4.
In the starting twenty minutes, Dmitry Kvartalnov's team had an advantage over Dynamo Mn, but for a long time could not turn it into a goal. Later, teams stayed on the ice "4 on 4", and Minsk managed to open the score. But still, Ak Bars did not go to the first break without a goal - Dmitry Kagarlitsky won the face-off, Galimov rolled out of the goal and made a pass to Kovalenko, after that Nikolay hit open the score 1:1.
At the beginning of the second period in the 24th minute, Dmitry Yudin powerfully hit from the blue line, the puck bounced off, and Safonov finished off the puck into an empty corner. After half an hour of playing time, Igor Bobkov made a mistake, he rolled out of the goal and Kirill Voronin pushed the puck past the goaltender of Kazan, 2:2. But the equal score of the game lasted less than two minutes: Nikita Dynyak calmly led the Kazan team forward.
After the second break, Dynamo quickly scored the third goal. The rest of the period was under the control of Minsk.
The match went into overtime, which lasted 15 seconds. Forward Mattias Tedenby brought victory to Dinamo Mn. Ak Bars scored 21 points in 15 games and still ranks fourth in Eastern Conference standings.
Ak Bars - Dynamo Mn - 3:4 OT (1:1, 2:1, 0:1, 0:1)
0:1 Tedenby (Kempe, Almquist, 13:44, 4х4)
1:1 Kovalenko (Galimov, Kagarlitsky, 19:04)
2:1 Safonov (Yudin, 23:19)
2:2 Voronin (Shinkevich, Gorbunov, 32:36)
3:2 Dynyak (Safonov, 34:06)
3:3 Usov (42:54, 4x5)
3:4 Tedenby (Bengtsson, 60:15)
Goaltenders: Bobkov - Rybar.
Ak Bars:
Goaltenders: Igor Bobkov (Timur Bilyalov);
Steven Kampfer - Kristian Khenkel, Artyom Lukoyanov (c) - Alexander Burmistrov (a) - Mikhail Glukhov (a);
Daniil Zhuravlyov - Dmitry Yudin, Dmitry Kagarlitsky - Artyom Galimov - Nikolai Kovalenko;
Nikita Lyamkin - Kirill Adamchuk, Nikita Dynyak - Ilya Safonov - Dmitry Voronkov;
Roman Rukavishnikov, Kirill Panyukov - Par Lindholm - Kirill Petrov; Dmitry Katelevsky.