Ak Bars - Avangard - 3:2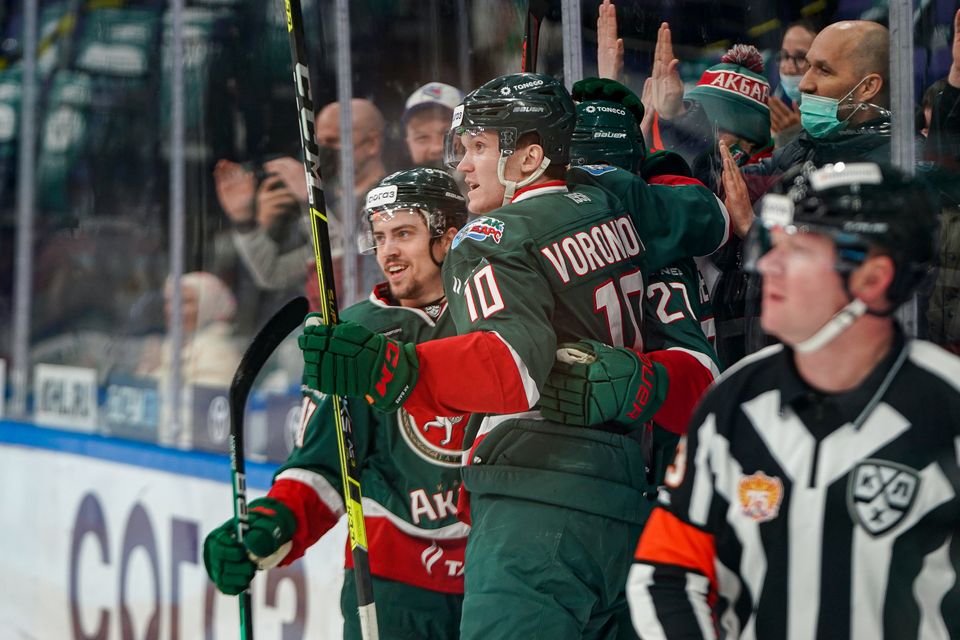 On October 22, Ak Bars won Avangard with a score of 3:2.
The start of the first period remained for Kazan. Kazan immediately organized several dangers of attacks. Then Roman Rukavishnikov threw from the blue line, the puck bounced off, and Kirill Petrov was the first to score a goal, 1:0. Soon enough, Avangard equalized the score.
At the beginning of the second period, Dmitry Kvartalnov's team again took the lead. Nikita Lyamkin hit from the blue line, and Dmitry Voronkov scored, 2:1. At the last minute before the second siren, teams exchanged goals. First, Ilya Safonov rolled out the third goal. Next, Avangard reduced the gap in the score to a minimum, 3:2.
In the final third of the match, teams continue to demonstrate aggressive hockey. A minute and a half before the end of regular time, Avangard removed the goaltender replacing him with a sixth fielder. Ak Bars managed to survive.
Ak Bars - Avangard - 3:2 (1:1, 2:1, 0:0)
1:0 Petrov (Rukavishnikov, 04:13)
1:1 Cehlarik (Telegin, 07:31, 5х4)
2:1 Voronkov (Lyamkin, Weal, 21:57)
3:1 Safonov (39:04, 4x5)
3:2 Zharkov (Gritsyuk, 39:58)
Goaltender: Bobkov - Hrubec.
Ak Bars:
Goaltender: Igor Bobkov (Timur Bilyalov);
Kristian Henkel - Steven Kampfer, Dmitry Kagarlitsky - Artyom Galimov - Daniil Tarasov;
Daniil Zhuravlyov - Dmitry Yudin, Jordan Weal - Dmitry Voronkov - Kirill Petrov;
Nikita Lyamkin - Kirill Adamchuk, Nikita Dynyak - Ilya Safonov - Kirill Panyukov;
Roman Rukavishnikov, Artyom Lukoyanov (c) - Alexander Burmistrov (a) - Mikhail Glukhov (a); Dmitry Katelevsky.